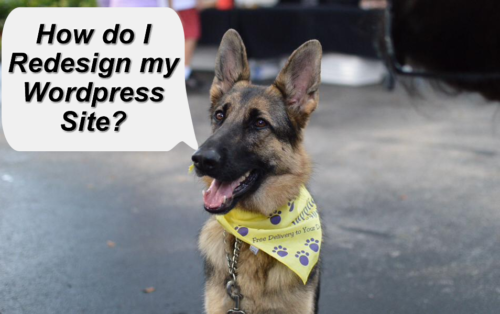 There are a few ways to rebuild a wordpress site;
You can go into the existing site and install a new theme and make the adjustments live. Depending on the changes needed to the new theme this can be a good idea. You can use a site under construction plugin or the changes can be made late at night or earlier in the am to avoid your visitors seeing anything odd… If you don't use a visual editor, you only make a few changes and you can go between themes all day with no problem. You can work on the new design and go back to the previous theme until the new design is ready. If you use a visual editor, it adds code to the actual page text/code which shows up if you go back to your theme without a visual editor. I am not a fan of visual editors because of this.
You can build a wordpress site like you have done in a separate website with the exception of the content and then move the new theme files into your existing domain once it is done.This can be done with an ftp program or plugin. This should be is less down time of the site…
You can install wp into a new directory (folder) and build THAT wordpress install the way you want it. Once done, you have to make a couple changes to the system so the site looks at the NEW wordpress install with the new look, not the original one. Use can use a plugin, or the export / import feature to move the content from the original db to the new db during any part of the process. IF YOU USE A VISUAL EDITOR ON THE OLD SITE AND NOT ON THE NEW, OR A DIFFERENT VE ON THE NEW, YOU HAVE TO GO INTO SOME OR ALL OF THE PAGES TO REMOVE THE ORIGINAL CODE. Again, another reason why i am not a big fan of the visual editors.
Anytime a theme files are modified, a child theme should be used.