Recently, I've seen some articles stating Facebook can represent your business instead of building a company website. Facebook vs. Website. What's the difference? Here are five aspects comparing Facebook and your own business website. What do you think?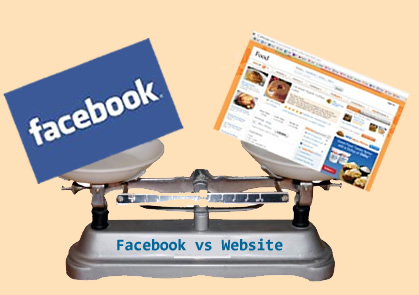 Facebook Business Page –
Facebook does well in search engines
Can create polls and email marketing
Interact solely with Facebook users
Facebook owns the website
Can add special welcome pages with html or iframes, etc.

Business Website –
You can do the same things Facebook can do
You can create an e-commerce site or blog site
You own the site and can customize it to your liking
You have access to many more people on the web
You can optimize each web page for search engines
When you compare and contrast the differences between Facebook vs a website, you see there are a lot of simularities. But the crucial difference is that you are limited to the fact that Facebook can delete anything it wants since it owns the website! What does that mean? This week I noticed Facebook deleted the "discussions" tab. I saw some comments from business pages asking Facebook what happened to the content that was there.  Remember, it's Facebook' s website!
Facebook is a good way to market your site and an added bonus in representing your business. Take advantage of this great marketing website! Think of Facebook as another mini site for your company that you can use to increase your branding, customer service and linkback optimization. But you also need to consider this…do you want your business represented entirely by someone else's site? I don't think so!
What conclusion did you come up with after reading the differences between Facebook vs. a website? We'd love to hear your opinion! If you have social media or SEO questions, feel free to comment and ask!