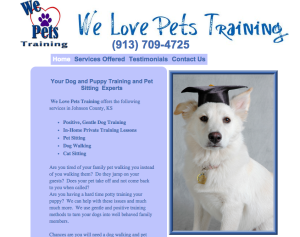 I was asked to review welovepetstraining.com who said they expected more from this site. Here are some of the tips to improve rankings and conversion which should increase leads and contacts.
Lets go over some of the basics;
Keyword – in this case a service together with a location "dog training Johnson County, KS " is one, pet sitting Johnson County, KS" is another.
Using the keywords in the meta title and description of the page. One kw per page. Think of the kw as the theme of the page.
There are only 5 pages indexed in google and 3 of them are documents. A blog should be installed so that you can easily add and modify content.
Each service should have its own page so that they can be optimized for each keyword.
Google loves content BUT it must be unique and relevant. The content must be written in such a way to show your authority in the field. It must be informative and valuable. NEVER copied from any other online source.
Once your get more visitors to they site, they need to be directed or told to take an action, this is called "a call to action".  A good looking site with great information is very important, but at some point you need to direct people to contact you or sign up for a newsletter or take some action that will benefit you. You only have seconds to get their initial attention before they continue going through the results in Google and on to the next on the list.
Keep in mind that the visitor is interested in primarily one thing, and it isn't your background, education or great prices, the main thing the visitor is interested in is "WHAT CAN YOU DO FOR THEM".

To that end, it is best to figure out what your visitors wants or needs and offer a solution.  For example,
"Does your dog jump? We can help!"
'"Your dog a nightmare to walk? WE CAN HELP!"   
"Fido out of control? Contact us now so we can help!"

Find other related websites to link back to your site.
Get your business info (name, address, phone, website) listed on local directories.
On a more technical side of the equation, the site should have both an xml and html sitemap and the xml sitemap should be submitted to google and bing using their webmaster tools page.
The testimonials should be visible for visitors and google to see.
Use social media (facebook, pinterest, google plus, twitter, etc.) to reach out, engage and direct people to the site – mandatory!
Create and add videos to Youtube and embed them on your site to SHOW the world what you can do.
I use wordpress for all my new clients so they can make all the simple changes and updates they want without having to pay a developer.
(Read more here – http://www.seodoesmatter.com/search-engine-optimization/seo-checklist/)